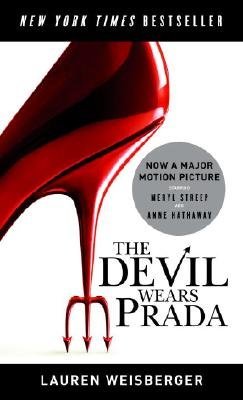 I know that this book has been published a mere decade ago and it's a little rusty for me to even reviewing it; I'm aware of that. (Of course I watched the movie ten years ago but not able to read the book, just because I haven't got the copy of the book – I enjoyed the movie.. really!).
Okay let's talk about the book… There is no truly gripping story line in The Devil Wears Prada. Instead there is factory assembly line of characters: the stand-out-in-the-crowd protagonist, who manages to stay true to herself, despite the pressure around her; the sycophantic colleague who belittles and berates her but ends up respecting her; the boyfriend/best friend who just doesn't understand!; and finally, the evil boss who thwarts her at every turn but ends up taking the protagonist under her wing.
There's one thing that really stands out in this very form of book; Lauren Weisberger's writing style. It's corny but it feels raw, very descriptive, witty and unadorned in sort of sarcastic ways. She provided the readers a harsh but true reality in the fashion world, of how they worship size 0, even given the fact that this book is actually released thirteen years ago. She manages to keep the pace steady, with a little rush and hecticness in terms of Andrea's restless job of chasing, catching, searching and fetching every unreasonable demands from Miranda. I also love how the author being so spoiled on giving us an insider of every brand names imaginable, as well as a quick tour of New York. Though sometimes her writing feels like having loose edges and dull events, this book still is considered as one hell of page-flipper in sort of bitchy and expensive way. I also love how Lauren Weisberger rises up the tense on the last 3 chapters and the way she handles the end; seems cliché, maybe, but it's as simple as that.
While I read the book quite quickly, I still found it too long. This material works perfectly for a movie, but in a book, I really don't want to read about the main character getting coffee every day. That gets old very quickly. Nevertheless, I really liked the storyline in general, and it had some funny bits. While it's an enjoyable story, you do need to take this with a massive grain of salt, because it deals with very sensitive topics like women starving themselves just to look good in the eyes of the fashion world. If you can handle that, then I see no reason why you should not enjoy this book. It's just that, when you compare it to the movie, it's a little underwhelming. The movie was more exciting. I thought the book was a bit slow paced and repetitive so it lacked tension. I wish the plot grew with more suspense instead of just Andrea getting her tasks done for half of the book. Overall, I enjoyed reading this book because of the chick-lit and young adult mix. I would recommend this to anyone who enjoys reading about fashion and girly things!
Oh, don't be silly – EVERYONE wants this. Everyone wants to be *us*.
3 out of 5 stars