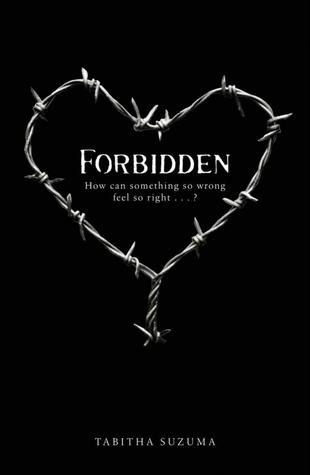 Tabitha Suzuma's Forbidden is probably the most intensely powerful novel that I've read in a seriously long time and I really don't know where to start with this review.
The truth is I really can't get over with this one.. with Lochan and Maya. I did not expect that this book will have this effect on me. I have read the reviews on goodreads that is why curiosity hit me, I really wanted to enter the lives of Lochan and Maya. And this is my first time to read this kind of young adult novel, what do I mean about this. Well, this book is about a brother and a sister in love with each other. But, that's just a concept, an idea. What can get really uncomfortable is the details that the author put in the intimate scenes. I know…I know, you're probably thinking that Incest is disgusting and disturbing. Consensual incest is one of the most controversial subjects out there, and to be honest, I was extremely curious as to how the author would handle it. But, quite frankly, it blew me away. Lochan and Maya's story is delivered beautifully, but in an artful, unflinching way that really captured my attention. All at once I was cheering Maya and Lochan on and feeling a little uncomfortable. The conflict between my heart and mind kept me on the edge of my seat for the entire novel. All of the questions that would be asked about Lochan and Maya's relationship, they asked themselves. And couldn't answer them any more than an outsider could. But their situation is so different and something unusual was bound to stem from it. A closeness in age, running their household, being parents to their three younger siblings and having to work together made them much closer than a normal brother and sister would be. From this partnership stemmed a passionate, but tender, love that's both so wrong and so right. I don't know but at times, conventional wisdom tells me that this relationship is wrong. But the love between Lochan and Maya is so undeniable, I really want them to find a way to make things work out. It is incredibly moving and I found myself dreading the inevitable.
This is a heartbreaking, raw story that will take you on an emotional rollercoaster. Maya and Lochie's anguish and pain jump out of the page and you feel their emotions every step of the way. By the end of the book, I was shocked and so shaken, not only by the outcome of the story but by all the strong emotions that each of the characters inspired in me. Forbidden is a book that will stay with me for a long time. Tabitha Suzuma is a genius writer, as an avid reader I come across dozens and dozens of books hoping the next one I pick up will either move me to uncontrollable tears, challenge my belief system, take me on an emotional rollercoaster, show me love, make me feel hate, sigh with happiness, leave me with a sense of longing, or simply just close the book when I'm done and say to yourseslf "wow, that was absolute perfection." This book didn't just do one of those, it did all of the above and then some. Thanks to you Tabitha Suzuma.
Forbidden is absolutely consuming, heart breaking, and an absolute must read, it is an enthralling read for those who like their contemporary YA deliberate, and can cherish the unconventional romance. It was an incredible read for me, and I hope it is so for you too.
"How can something so wrong feel so right?"
5 out of 5 stars (uhhmmm…the truth is more than 5 stars)